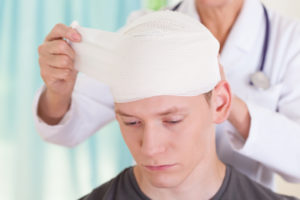 If you or someone you love has suffered a traumatic brain injury (TBI), you may be coping with the prospect of long-term disability and an uncertain future. If someone else's negligence caused your TBI, you need to speak with a qualified brain injury lawyer as soon as possible. Our skilled and knowledgeable attorneys at Zervos & Calta, PLLC, can help you understand your legal rights and demand justice for the losses suffered.
For a free and confidential consultation, contact our trusted legal team now.
What Are the Most Common Causes of Traumatic Brain Injury?
Traumatic brain injuries can be caused by everyday activities as well as dangerous jobs. Some of the most common causes of TBI include:
Car accidents
Slips, trips, and falls
Assaults
Truck accidents
Motorcycle accidents
Bicycle accidents
Pedestrian accidents
Work accidents
Sports injuries
Combat injuries
Defective or dangerous products
Medical malpractice
Birth injuries
It is important to see a doctor immediately after any type of accident. Sometimes, the effects of a TBI are not immediately obvious. In these cases, it's important to let your doctor know as soon as symptoms manifest. The sooner you begin treatment, the more effective it's likely to be.
After you have sought medical care, contact our experienced Florida traumatic brain injury attorneys at Zervos & Calta, PLLC, so we can review your legal options. Our committed and compassionate lawyers are here to support you through this trying time.
What Are the Symptoms of a Mild TBI?
TBIs can classified as mild, moderate, or severe, depending on their symptoms and the dangers they pose. Symptoms of mild TBIs may include:
Headache
Dizziness
Fatigue
Feeling light-headed
Inability to concentrate
Difficulty sleeping
Memory problems
Feeling sick to your stomach
A bad taste in your mouth
Difficulty with balance and coordination
Difficulty swallowing
Vomiting
Vision problems
Ringing in your ears
Sensitivity to sound or light
Anger and irritability
Mood changes
Anxiety
Depression
Loss of bowel control
What Are the Symptoms of a Severe TBI?
Common symptoms of a severe TBI include:
Extended loss of consciousness
Seizures or convulsions
Strokes
Slurred speech
Loss of coordination
Persistent headache that gets worse
Extreme sleepiness
Numbness in your arms and legs
Paralysis
How Can You Spot a TBI in Children?
The impact of traumatic brain injuries on children can be different from that experienced by adults. The effects of a head injury may not be immediately apparent because a child's brain is still developing. A traumatic brain injury functions like a chronic disease for a child, meaning the symptoms may change and reveal themselves over time.
The symptoms of TBI in children are generally similar to those experienced by adults, but the functional impact can be different. The cognitive impairments, such as memory loss and learning disabilities, may not be immediately obvious after the injury but could become clear as the child gets older.
Because childhood TBIs are often complex, a child can experience a range of symptoms following an accident. This may include:
Slurred speech or speech impairments
Confusion
Difficulty writing or reading
Difficulty meeting developmental milestones
Emotional changes, such as mood swings and anxiety
Fatigue
Dizziness
Difficulty walking, clumsiness, lack of coordination
Limited attention span
Weakness or numbness involving any body part
Memory loss (short- or long-term)
Stiff neck
Cannot stop crying
If your child exhibits any of these symptoms, he or she should be evaluated by a doctor. A doctor's evaluation will determine if there is TBI and what kind of treatment your child may need.
When speaking with the doctor about your child's head injury, try to describe how the injury happened, including what the child was doing prior to the accident and how the child responded following the injury. Health experts recommend that parents contact their child's doctor for medical advice for anything more than a light bump on the head. Where TBIs are concerned, it's better to err on the side of caution than risk long-term consequences.
What Are Some Common Disabilities as a Result of TBI?
Disabilities resulting from a TBI depend upon a range of factors, including the severity of the injury, the part of the brain affected, and the age and overall health of the victim. Cognition, the five senses, and communication skills are frequently impacted.
Some of the most common disabilities caused by head injuries include:
Post-concussion syndrome, which can involve dizziness, headache, memory problems, difficulty concentrating, trouble sleeping, irritability, anxiety, and depression. These symptoms could last for a few weeks after the TBI.
Cognitive disabilities, which can include short- and long-term memory loss, a sense of fogginess, and the inability to solve problems, reason logically, and make judgments. These cognitive issues can be experienced for six months or longer after the TBI.
Sensory problems, which can linger long after a TBI. Those suffering from vision problems caused by TBI may have an inability to register what they are seeing. This can make it difficult to drive a car, operate machinery at work, or participate in sports. TBI patients can also develop a ringing in the ears, a bad taste in the mouth, persistent skin tingling, and itching.
Communication issues are common disabilities as well. Some TBI victims experience aphasia, which is difficulty understanding and producing language. Some sufferers have trouble with more subtle forms of communication, like body language and non-verbal cues. Others have issues with intonation or inflection. TBI victims suffering from dysarthria can think of the appropriate language but cannot speak the words because they can't use the muscles needed to produce the sounds.
Talk to a Traumatic Brain Injury Lawyer Now
If you or a loved one has suffered a TBI caused by the negligence of another party, you need to learn about your right to recover compensation for your losses. At Zervos & Calta, PLLC, our experienced Florida TBI lawyers will identify all possible sources of compensation and fight for the full amount you deserve.
Contact us today for a free, no-obligation consultation.