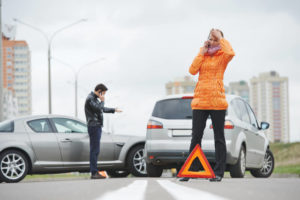 If you suffered significant injuries in a car accident in Florida, proving fault will be crucial for recovering compensation.
Since Florida is a no-fault state, drivers can generally file a claim with their car insurance.  However, if an individual suffered severe or permanent injuries in a car crash, expenses such as medical bills and income losses easily exceed available no-fault car insurance coverage.
Critical driver errors are at the root of most motor vehicle accidents, according to the National Highway Traffic Safety Administration (NHTSA). If another driver caused your car accident, you might be entitled to compensation from the at-fault party. However, victims need to show extensive evidence of another's negligence to collect damages.
If you or a loved one suffered significant injuries due to someone else's carelessness or recklessness, you will need to know how to prove fault in a car accident in Florida. Zervos & Calta, PLLC can guide you through the legal process and help you pursue compensation for your losses while protecting your legal rights.
Get started now and contact us to schedule a free consultation.
Police Reports
If law enforcement came to the scene of your accident, an officer will create an official police report. Make sure to obtain a copy of the police report. The report can include information on the following:
The negligent party that caused the accident
Information on the behavior of all drivers involved in the crash
Suspicions or evidence of alcohol intoxication and/or drug use
Evidence for violation of any traffic laws
Citations issued to drivers
Photographs and Videos
Photographs and videos of the accident scene can be beneficial for proving fault in a car accident in Florida. Photos can show the extent of car damage, demonstrate how the crash occurred, and help to prove who is responsible. Pictures can also indicate vehicle speed at the time of the collision. Accident reconstruction professionals may reconstruct an accident based on pictures of car damage, skid marks, and debris in the road.
Eyewitness Statements
Eyewitness evidence can be pivotal for determining liability. Witnesses can include:
Other drivers involved in the accident
People in nearby businesses or homes
Bystanders who saw the accident
Drivers who stopped to offer assistance
Your attorney can request written or recorded statements from eyewitnesses to prove fault in a car accident in Florida.
Expert Witness Testimony
Depending on the facts and circumstances surrounding your car accident, testimony from expert witnesses might be crucial for proving your case and recovering compensation from the at-fault party. Expert witnesses can give an opinion on many different issues, including:
The severity of a victim's injuries
Expected future medical treatment costs
Causes of the accident
Liability and fault
The testimony of expert witnesses can give you and your attorney excellent leverage when negotiating for present and future expected damages.
Accident Reconstruction Experts
Accident reconstruction experts can be critical expert witnesses in a car accident case. Reconstruction professionals can analyze all facts of an accident and offer their expert opinions on what caused a crash. Accident reconstruction experts conduct scientific analysis into various issues such as speed, direction of travel, and stopping distances.
Accident reconstruction professionals will not only look at technical accident scene data but can also take other available evidence into account when forming their opinions, such as police reports, cell phone data, and traffic camera footage.
Traffic Laws
Having concrete evidence that another driver violated traffic laws can help prove fault in a car accident case. For example, if traffic camera footage, witness testimony, or accident reconstruction experts can show that a driver ran a red light or ignored a stop sign before the accident, victims may have a strong case against the negligent driver.
Cell Phone Records
Texting while driving and other distractions cause tens of thousands of accidents in Florida each year. According to Florida Highway Safety and Motor Vehicles (FHSMV), almost 49,000 crashes and 299 fatalities occurred in just one year due to driver distraction. Proving distracted driving can be tricky. However, if the accident happened due to cell phone use, an attorney can request phone records from a provider. Records can be used to show whether a driver was texting or calling at the time of the crash.
Toxicology Reports
In serious accidents, obtaining toxicology reports from drivers can be a standard procedure. These reports can show whether a driver was under the influence of alcohol or drugs when the accident happened. A toxicology report can be a crucial piece of evidence for determining liability.
Black Box Data
Black box data can be extremely useful for determining fault in an accident. The information from a car's electronic data recorder or "black box" can hold essential details such as the car's speed at the time of impact, whether the driver applied the brakes, the steering angle, and the exact date, time, and place of the collision.
What Kind of Crash Were You In?
Determining liability can be more complicated with some accidents than others. Rear-end or failure to yield crashes, for example, can be easy to prove in many cases. However, other accidents may require extensive evidence and the opinion of several expert witnesses.
Some of the more complicated accidents include those that involve several potentially at-fault parties. For example:
Multi-vehicle pileups
Accidents due to road or vehicle defects
Crashes in which several drivers have a degree of fault
Secondary car accidents
If you suffered injuries in a complicated car accident, having a seasoned attorney by your side can give you peace of mind and practical help with your case.
How to Know When You Need Legal Help After a Florida Car Crash
If you have sustained significant injuries and property damage, you most likely could benefit from legal representation and guidance from an experienced and dedicated attorney. A car accident lawyer can help determine your legal options and the next best steps for seeking compensation.
Holding the at-fault party responsible for your damages can provide you with amounts covering financial losses and compensate you for non-economic damages such as pain and suffering or emotional distress.
Call Our Experienced Accident Attorneys Today for Help
If you suffered injuries in a car crash, you do not have to go it alone. Zervos & Calta, PLLC is here for you. We can help collect evidence and testimony needed to prove fault in a car accident in Florida.
Our dedicated attorneys do not charge any upfront fees. We stand ready to help you with all aspects of a personal injury lawsuit, leaving you free to concentrate on your health and recovery.
Contact us now for a free case review.