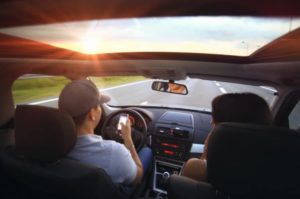 You should think twice before you send a text while driving in Florida because it could cost a lot of money. On July 1, 2019, a new law went into effect that makes it illegal to text while driving in the state. In 2016, there were almost 50,000 accidents caused by distracted driving, which resulted in 233 deaths. It's a law that is long overdue, and is already illegal in many states.
Lt. Kim Montes, who is the public affairs officer for the Florida Highway Patrol in several central Florida counties, recently answered some common questions about the new law. Having a full understanding of the law and all that it covers will help drivers be safe on the road.
Ten Questions About the New Law
1. If I get a warning instead of a ticket for texting and driving, will it go on my record?
A: Warnings will never count against a driver's record, no matter how many they receive.
2. Can I talk on my phone while holding it and driving?
A: Holding the phone while you drive is allowed, even though it's not recommended to do so. There is one exception to the law, however, which is that you cannot hold your phone when you are driving through a school zone or a highway work zone when workers are there.
3. Is it ok to tap the phone to answer it, if I'm not holding it?
A: That is legal, even in a school or construction zone, as long as you're not holding it. The best solution is to use either Bluetooth or a headset. If you use a headset, you must have one ear without the earbud in it to be able to hear clearly.
4. Can I send a text when I stopped in traffic or at a red light?
A: You can only be stopped and given a ticket if a police officer sees you texting while the car is moving. You can't be given a ticket for texting while stopped. But if you are stopped because you are on your phone while traffic is moving around you, a ticket could be issued for impeding the flow of traffic.
5. What about delivery vehicles or Uber drivers looking at their GPS for directions?
A: Drivers are allowed to use their phone for the maps or to get directions. It's best to type in the address before you start the car and then let verbal directions guide you to your destination.
6. Is it ok to use the camera on my phone to record video while driving?
A: It's legal to do but can be distracting if you're trying to hold it yourself and record while you drive. You should either get a recording device specifically for cars that is mounted, or find a way to mount the phone.
7. Can I use my phone for other things like the Waze app, maps or GPS, or Google something as long as I'm not texting?
A: yes, any use of your phone besides texting while you are driving is not against the new law.
8. Can I put on my makeup, eat a meal or drink coffee without getting a ticket?
A: None of those activities are illegal so law enforcement should not pull you over for any of them. However, if they cause you to be distracted and break a traffic law, then you can be pulled over and given a ticket.
9. What happens if I get pulled over for texting while driving?
A: The first time you are cited for it, it will be for a non-moving violation with a $30 fine and no points.
However, if you get another ticket within 5 years, it will be for a moving violation, a $60 fine, and count as 3 points against your license. There could also be court costs or other fees, depending on the county.
In Brevard County, the court and legal fees for the first ticket are $119, and subsequent tickets are $169. So counties impose their own fee rates.
10. The police may see me using my phone, but how can they prove I was texting and not using my maps or other apps? Can they take my phone?
A: Law enforcement is not allowed to ask to see your phone or to confiscate it to verify if you were texting while driving. Police are trained to be able to identify when a driver is typing on their phone.