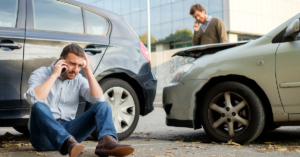 Accidents can happen to even the most careful drivers when other people are negligent. These sudden and shocking events frequently leave victims disoriented and unsure of how to respond, especially when injuries or damage are severe.
Your ability to fully recover both your health and your financial losses depends heavily on the actions you do and don't take immediately following the accident, as well as in the days, weeks, and months ahead. Read on to learn more about what you should do after a Florida car accident that isn't your fault.
Make Sure You're Safe
Right after the moment of impact, your priority should be to make sure you and your passengers are safe from further harm. To prevent additional collisions, remove your car from the flow of traffic and into a safe location nearby. If it is impossible or unsafe to move your car out of traffic, turn on the hazard lights.
Once you are in a safe location, check everyone in the vehicle for injuries. If you or anyone else at the scene was injured, call 911 for emergency medical treatment right away.
Contact the Police
Even if your accident seems minor at first and no one appears to have suffered obvious injuries, you should still contact the police. You are required to call the police if your accident resulted in injury, death, or property damage that appears to be worth $500 or more. Plus, if you were not at fault for the collision, calling the police can be especially helpful should you need to recover compensation later on.
Police reports typically include information such as the police's assessment the cause of the accident, driver and witness accounts of the crash, and any relevant toxicology test results. Some insurance providers require police reports to be submitted along with benefits requests, but even when they don't, these official records offer important information for any future insurance claims.
Get Emergency Medical Treatment
As soon as you feel you may have been injured from your accident, you should seek immediate medical treatment. In many cases, serious injuries like whiplash, concussions, or internal bleeding may not show obvious symptoms for hours or days.
A prompt, thorough examination by a doctor could detect serious latent injuries. Timely treatment could drastically improve your prognosis or even save your life. In addition to getting you the treatment you need to recover, the doctor's visit will create a medical record of your injuries. These records are especially useful if you become involved in an insurance dispute over the severity and cause of your injuries.
Collect Information and Evidence
Collect as much information and evidence as possible right after the accident, or if you are unable to, ask someone on the scene to help. Your priority should be to exchange information with the other driver or drivers involved in the crash. Other drivers are supposed to report accidents to their own insurance providers, but this does not mean they will.
Make sure to get other drivers' contact information, insurance provider names and policy numbers, drivers' license numbers, and car license plate numbers. Take photos of the accident scene and any injuries, and be sure to ask any eyewitnesses for their contact information as well.
Watch What You Say to Others (Don't Admit Fault)
As you trade information with others and begin reporting your accident, pay attention to the statements you make and how they could be interpreted.
For example, if you tell another driver you're sorry, they may use that statement against you as an admission of guilt. If you tell an insurance provider that you feel fine, they may be less inclined to pay for medical expenses if you need them later.
In most cases, it's in your best interest to be polite but say as little as possible. Any statements you make could reduce or delay potential future settlements.
Get Follow-Up Medical Treatment and Keep Documentation of It
It's also important to receive regular check-ups to ensure you recover properly and have formal documentation of your progress. Any changes in your health status, including accident-related symptoms that may not appear until months or years later, will be officially recorded and may provide invaluable support for any future insurance claims.
Keep a Journal About How Your Injuries Affect Your Life
A daily or weekly journal of the physical and emotional pain you experience following your accident can be another useful piece of evidence. Your written personal account of your daily symptoms and challenges show how your injuries have affected you over time, and can help corroborate your claim if those injuries are internal or invisible.
Stay Off Social Media
In recent years, content on social media has increasingly been used to discredit accident victims and reject or undervalue their compensation claims. While many of us are used to frequently sharing information online, it's a good idea to hold off for a while, so you don't accidentally weaken your case.
Any of your online posts, photos, tags, or comments may be twisted into evidence that you are not as injured, in pain, or unable to work as you say, and then used to deny or devalue coverage.
Contact a Car Accident Attorney Today!
One of the most important steps after an accident is discussing your case with a Tarpon Springs car accident lawyer as soon as possible. The legal team at Zervos & Calta, PLLC, offers more than 50 years of combined experience helping personal injury victims throughout Florida. We're eager to put our skills to work for you.
To speak with our dedicated staff today, contact us online or call us for a free initial consultation.