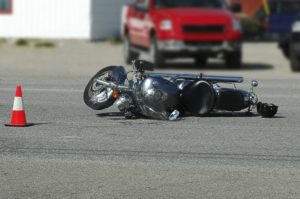 It's an interesting fact that the most common injuries in motorcycle accidents aren't to the head, but to the legs or feet. This may be because a high percentage of riders wear helmets to protect their head and brain, but they don't always wear clothing or shoes that will protect their lower extremities, even in a minor crash.
It's pretty instinctive when you're falling over on a motorcycle to use your hands to break the fall. But statistics show that the arms and hands aren't injured nearly as often as the legs and feet are. Even for a very short ride to the store, riders should always wear clothing and shoes that will provide good protection.
Wear Boots for Protection, Not Sandals
Slip-on shoes, sandals, or any type of light-weight footwear can come off when a bike goes down. At many motorcycle crashes, the shoes can be seen strewn on the road. Even a minor accident or a crash at low speed can cause footwear to be ripped from the feet. The best type of shoe to wear for protection are boots that use clips, or are zipped or tied securely to the foot above the ankle.
Many riders think that wearing jeans provides enough protection to their legs, but unfortunately, denim abrasion resistance tests show that they only last for half a second before they split
open, allowing the skin to be exposed. Riders will almost always slide when falling off a moving bike, unless they hit a stationary object, so jeans will not provide adequate protection.
Neck and Head Injuries
After feet and legs, the next most common type of injury that is isn't fatal is to the neck and head. Neck and head injuries occur in at least 22% of all motorcycle accidents, which is why
most states in the US and even many countries have laws that make wearing a helmet mandatory. This includes both the driver and a rider.
These results are from a study done by the Center of Disease Control and Prevention (CDC), in which they studied riders from the US who sought treatment in a hospital from 2001 to 2008. The study also showed that after the feet and legs, neck and head, the next most common type of injury is to the upper torso (chest and back), then the arms and hands, and lastly the pelvic area.
Even though some safety groups have at times wanted to mandate that riders wear protective riding gear, currently that is not a law in any state. It is in every rider's best interest to wear the best protective gear they can, every time they ride, no matter how long the ride will be.