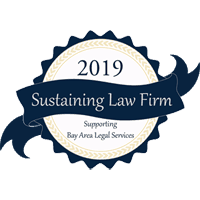 Zervos & Calta, PLLC, a personal injury legal practice, announces that it has become a 2019 Sustaining Law Firm for Bay Area Legal Services. Bay Area Legal Services is a nonprofit, public interest law firm that provides free civil legal assistance to qualified and low-income residents and nonprofits throughout the Tampa Bay region. Zervos & Calta is proud to help Bay Area Legal Services continue its mission to promote hope and justice for low-income families.
Giving back to the community is important to Zervos & Calta, PLLC. As a Sustaining Law Firm, Zervos & Calta, PLLC committed to donating a minimum of $350 per year for each attorney in the law firm. By contributing to the work of Bay Area Legal Services, the legal practice will help to provide access to justice in order to create strong, safe communities. Last year, Bay Area Legal Services helped and educated more than 17,000 individuals, families, and community groups. Zervos & Calta, PLLC is proud to support this organization so that the nonprofit can expand services and reach local Tampa Bay needs.
Clearwater Personal Injury Lawyers With Trial Experience
The attorneys at Zervos & Calta, PLLC, understand the need for compassion and advocacy. The personal injury law firm is known for zealously fighting for the rights of clients both in and out of the courtroom, and the team has the credentials and courtroom experience to offer the focused and persistent representation a case deserves. Zervos & Calta, PLLC is well versed in handling all types of personal injury cases from auto accidents to wrongful death to medical malpractice. Each attorney in the practice has extensive jury trial experience across a variety of different practice areas, which enables the firm to help clients receive record compensation amounts for their pain and suffering, lost wages, and medical bills.
Zervos & Calta, PLLC is licensed for practice in the state of Florida. Some of the areas the firm serves are St. Petersburg, Clearwater, Spring Hill, Tarpon Springs, Westchase, Safety Harbor, New Port Richey, Hudson, Trinity, Elfers, Holiday, Bayonet Point, and Oldsmar. Attorneys meet directly with every client. If the client is physically unable to come to one of the firm's four convenient offices, then the attorney will travel to them. The initial consultation is always free, and there is no fee or cost unless there is a recovery.
Zervos & Calta, PLLC is a personal injury law firm with over forty-five years of combined personal injury litigation experience. The team of experienced trial lawyers is dedicated to representing only those who have been injured by the negligence of others. The practice offers results-driven representation while providing clients with compassionate support. Zervos & Calta, PLLC has law firm offices in Tarpon Springs, Clearwater, Spring Hill, and St. Petersburg.
###
For more information about the Clearwater law firm, visit the Zervos & Calta, PLLC website at https://www.zervosinjurylaw.com/clearwater/. The legal practice can be reached by phone at 1 (727) 239-4747 or by email at legal@zervosinjurylaw.com.
DISTRIBUTION LINKS
www.datelinecarolina.org
www.fox21delmarva.com
www.kake.com
www.telemundolubbock.com
www.tulsacw.com
www.wboc.com
www.wicz.com
central.newschannelnebraska.com
metro.newschannelnebraska.com
midplains.newschannelnebraska.com
northeast.newschannelnebraska.com
panhandle.newschannelnebraska.com
plattevalley.newschannelnebraska.com
rivercountry.newschannelnebraska.com
southeast.newschannelnebraska.com
www.1007thescore.com
www.1077yesfm.com
www.1170kfaq.com
www.929thedrive.com
www.937theeagle.com
www.abc-7.com
www.abc6.com
www.bigcountry995.com
www.doublet973.com
www.erienewsnow.com
www.fox34.com
www.htv10.tv
www.khits.com
www.kitv.com
www.klkntv.com
www.ktvn.com
www.kvoo.com
www.lubbockcw.com
www.lubbocks969thebull.com
www.magic1065.com
www.mylubbocktv.com
www.nbc-2.com
www.nbc29.com
www.news9.com
www.newson6.com
www.oldies977lubbock.com
www.rfdtv.com
www.snntv.com
www.weny.com
www.wfmj.com
www.wrcbtv.com
www.wrde.com