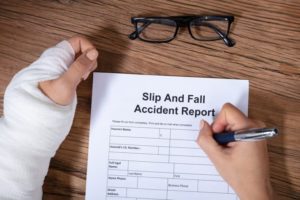 Falls or slip and falls can cause injuries severe enough to send many adults to the emergency room or an emergency clinic for treatment. Many of those injuries could have been avoided by adhering to some simple safety rules. Since most people fall while at home, there are ways to improve the home environment to make it safer.
Here are some facts and information about older people and falls.
Majority of older adults fall because they trip over something
The most common reason older adults go to the emergency room is because of injuries from a fall
The leading cause of death related to an injury in people over the age of 65 is from a fall
Falls are the leading cause of brain injuries, fractures, and open wounds
Reduce the risk of falling
The risk of falling increases as one gets older. This is due to many reasons, most of them physical changes that occur in balance, vision, strength, among others. Broken bones occur frequently in a fall due to a loss of bone density, and some say that weakened bones breaking can be the actual cause of a fall, not the other way around.
Here are some precautions that can help lower the potential risk of falling in older adults.
Have regular health checkup, including hearing and vision.
Be informed about medications you're taking, as some can cause balance or coordination problems.
Drink alcohol in moderate amounts.
Wear comfortable shoes that fit well, nothing loose that could cause you to slip in them and fall.
Exercise regularly with weight-bearing exercises to help build bone strength.
Walk carefully on icy or wet surfaces, and going up and down stairs.
Make your home environment safer
There are small things that can make a home safer and reduce the potential for falling.
Don't use small rugs that slip easily. Either secure them with double-sided tape or put a rug pad under them to keep them securely in place.
Keep small items out of the normal walk pathways that could cause you to trip.
Don't store things up high that you use frequently. Using a step stool to get to things out of reach is an easy way to fall.
Have a bar installed in your shower or bathtub, and one next to the toilets that can be used to help with balance when getting up and down.
Keep a non-slip bath mat in the tub and shower.
Keep all electrical cords tucked away so they can't be tripped over.
Be sure all stairways, inside and outside, are well lighted.
Balance problems
Poor balance and accidental tripping are the main reasons that older adults fall. Most adults lose their sense of balance as they age, but doing balance exercises daily can help it improve. Medication is another cause of a balance problem. If you notice a change in your balance or become dizzy after starting a new medication, talk to your doctor about it.
There are some balance disorders that can increase the potential for falling. Typically, a problem in the inner ear, the most common one is vertigo, which makes the person feel dizzy or that their head is spinning. If it can't be controlled with medication, then the person suffering from vertigo should be extra vigilant and take every precaution to reduce their risk of falling.
When a fall is caused by another person's negligence
There may be a time when you slip and fall on someone else's property. If it was caused by someone else's negligence or carelessness, call our office for a complimentary consultation with a Tarpon Spring slip and fall lawyer to discuss the details and see if you have a legal case against them.