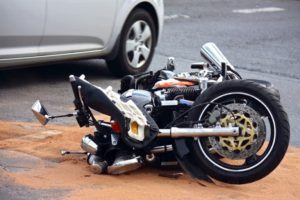 Anyone who has ridden a motorcycle knows how much fun it is. Cruising down the road with the wind in your face is exhilarating, but also dangerous. Data shows that someone riding a motorcycle is 28 times more likely to die in a motorcycle accident than someone in a car. Motorcyclists and drivers need to be more alert as they share the road, and motorcyclists should wear clothing to increase their visibility, and helmets for safety.
Driver awareness
To help reduce the number of injuries and deaths from accidents, vehicle drivers need to be more aware of motorcycles, and a better understanding of their vulnerability due to their limited visibility and size. Drivers should recognize motorcyclists' penchant for weaving through traffic so they can anticipate and respond safely when it occurs. Being more aware of motorcycles overall will help make everyone safer on the road.
Motorcycle licensing
Riding a motorcycle takes a whole new skill set that is different from driving a car. Because a rider is so vulnerable without protection, being hyper alert of all the traffic around them is extremely important. Being licensed to ride is required in every state, though the regulations vary from state to state. To receive the required endorsement on a regular state driver's license, riders will have to pass a written and driving test. Some states require that you successfully complete a course, but even if they didn't, going through a course is a great way to be sure you have the necessary skills and experience to ride a motorcycle safely.
Different types of motorcycles handle and respond quite differently, so when riding a motorcycle that is unfamiliar, take time to ride it in a more contained area before taking it out into traffic. Learn how to handle a bike under different adverse conditions like rain and slick roads, holes in the road, or having a car, animal, or debris come suddenly into your path.
Before riding
Check the motorcycle on a regular basis for regular maintenance things like tire pressure, checking the brakes, be sure all the lights work, and fluid levels are good. Any cargo should be balanced well and completely secured. If you will be carrying a passenger, instruct them to only get on the bike after it has started, sit as close to the front as possible, and always keep their feet on the foot rests. They should stay away from the hot muffler, and when turning, lean the same way that you do.
Wear protection
The most important piece of protective gear is a DOT approved helmet. Many motorcycle fatalities could be prevented just by wearing a helmet and protecting the brain and head. The best protection for the arms and legs is having them covered, preferably with denim or leather, which can prevent road rash. Boots or shoes that come up above the ankle, and gloves to protect your hands in the case an accident or having to lay the bike down.
Be a responsible rider
A responsible rider obeys all traffic laws, and doesn't take risks or drive irresponsibly. Leave enough room between the bike and other cars or trucks. Be aware of everything around you – to the side and behind. Use blinkers when changing lanes, and drive defensively, anticipating what another car might do because they may not see you. Reflective material on your bike or clothing enhances your visibility.
Never ride after drinking. Even one drink can impair your judgement, coordination, and balance while riding a motorcycle, and it's not worth the risk to your life. Even some prescription drugs can impair your ability to anticipate what other drivers are going to do and respond quickly. It's better to call for a Uber or Lyft than take chances with your life.