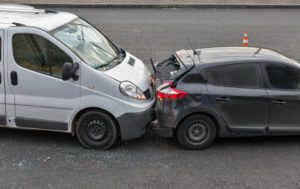 Rear-end auto accidents are the most common type of car crashes. From simple fender benders to deadly collisions, rear-end auto accident scenarios are almost endless. Most people presume that rear-end automobile accidents are always the fault of the driver who rear-ends the car in front of them. However, this is not always true. Depending on the specifics of how the rear-end car crash occurred, fault is not always automatic, and either driver could be held liable.
How is Fault Determined in a FL Rear-End Accident?
In most cases, we assume the driver in the rear is responsible for a rear-end accident because the driver failed to stop in time to avoid the collision. The at-fault driver is typically charged with following too closely and held accountable for vehicle damage and injuries suffered by those in the car they hit.
If you were driving the rear car in a rear-end accident and were injured, the presumption that you were at fault only stands until you present evidence that shows otherwise. That is what is known as a "rebuttable presumption" of negligence. The court presumes the driver in the rear is at-fault, but it may be persuaded someone else should shoulder all or part of the blame if it has the evidence.
A Florida car accident attorney from Zervos & Calta, PLLC can pursue compensation on your behalf if you were injured in a rear-end accident that was caused by someone else. We can help you seek compensation for your medical bills, pain and suffering and other accident losses. Contact us today in Tampa Bay for a free, no-obligation review of your legal options after a car accident. Phone 727-335-6960 or visit our contact page.
How Could the Rear Driver Not Be Responsible for a Rear-End Accident in Florida?
Just about anything imaginable can happen in Florida traffic, as many Florida residents know. This includes rear-end collisions caused by the driver in front. Here are a few ways it happens:
Rear brake lights fail on car in front.
Sudden stopping, particularly when stopping is unexpected such as in an active traffic lane.
Brake checking to ward off a driver who is tailgating.
Pulling in front of a faster vehicle by changing lanes without signaling.
Backing into the front of a car, such as after pulling too far into an intersection at a stoplight or out of a driveway or parking space.
A 2019 opinion handed down by Florida's 5th District Court of Appeal (Restal v. Nocera, Case No. 5D17-2) illustrates how the lead driver in a rear-end car accident can be at fault and how the presumption of the rear-driver's negligence can be overcome. It also illustrates an important issue in Florida personal injury cases, the doctrine of "comparative negligence."
In this personal injury case, the plaintiff was attempting a U-turn on an unfamiliar road when she realized the U-turn was illegal, so she slowed and veered toward a concrete median. The defendant ran into her car and the plaintiff was injured. The defendant testified that he saw the car's brake lights and admitted that he could have avoided the collision had he left more room between his vehicle and the plaintiff's.
Based on the presumption of negligence that attaches to rear-end collisions, the original court ruled in a partial summary judgment that the defendant was at fault and the court should proceed to consider an award to damages.  The court noted that the defendant admitted following too closely. The jury then ruled in favor of the plaintiff and awarded her attorney's fees and costs.
But the appeals court found that there had been conflicting testimony as to whether the plaintiff (the lead driver) had come to a complete stop or was still moving when the rear-end collision occurred. "When viewing those facts in the light most favorable to (the defendant), there was evidence from which a jury could have inferred that (plaintiff) was also partially liable for the collision. The appeals court said the trial court erred in finding the defendant was solely liable for the collision.
However, the appeals court agreed that because the defendant was following too closely, he was negligent. The court said that, under Florida's comparative negligence system, whether the plaintiff was also partly at fault – by slowing or stopping in an aborted attempt at a U-turn – should have been considered by the jury when awarding damages. It sent the case back to the lower court.
What is Florida's Comparative Negligence System?
In a car accident injury claim, the person who was injured (plaintiff) must prove that his or her injury was caused by the other driver's negligence. Under the principle of comparative negligence (or comparative fault), a jury must weigh the degree of fault of each side in a lawsuit and decide whether any negligence on the plaintiff's part contributed to the accident.
If a jury decides a defendant was negligent and awards damages to the plaintiff, it must then decide whether the plaintiff was partly to blame for the accident. If both parties were partly at fault, the jury must then assign a percentage of fault to each side.
Any damages awarded to the plaintiff would be reduced according to the percentage of blame that the jury assigned the plaintiff.
For example, if a Florida jury awarded $100,000 in damages for a rear-end car accident and determined that the plaintiff was 10 percent at fault for causing the accident, the plaintiff would receive a reduced award of $90,000.
Our Tampa Bay Car Accident Attorneys Can Help You
As we've discussed, if you hit someone from behind in a car accident, the presumption is that you were at fault. But that's not always the full story. To overcome the presumption of guilt, you'll need someone to come up with evidence in your favor and make the argument for you to the insurance companies and, potentially, in court.
The experienced attorneys at Zervos & Calta, PLLC, will fight for you. We have more than 50 years of combined experience investigating car accidents in Florida. We know what evidence to seek to build a case for justice.
Don't accept blame for any car accident, and don't let injuries someone else caused go uncompensated. Contact our car accident lawyers in Tarpon Springs and elsewhere in Florida to review the details of your accident and explore your legal options for seeking full compensation. Contact us online or call us at 727-335-6960 today. We're eager to put our skills to work for you.