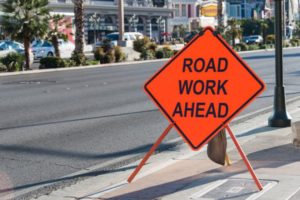 Every year there are thousands of vehicle collisions and crashes in and around construction zones. According to the Federal Highway Administration, over a recent five year period, 4,400 people died in work zone crashes of which 85 percent were drivers or passengers. More than 200,000 people suffered injuries. The risks of car accidents are worse in large construction zones and when the weather is bad. How construction zones can contribute to accidents is by both poor design of safety features and lack of safe driving.
Why Exactly Are There Construction Zone Accidents?
When you enter a construction zone you usually need to slow down, change lanes, change the direction of your vehicle, and be more attentive as traffic may narrow to as little as a single lane. When dealing with construction zones, patience and careful attention are the primary virtues. When drivers are tired, inattentive for any reason, going too fast, or lack good driving skills, the risk of construction zone accidents goes up.
And, because all of the changes associated with a construction zone make that stretch of road more dangerous, it is important that warning signs are clear and posted far enough in advance of a zone so that drivers have ample opportunity to adjust their speed, change lanes, and whatever is necessary for safety. In addition, in high traffic areas, having a live person directing traffic can help avoid accidents and even be a life saver. When any of these factors are missing or inadequate, more and more severe accidents are the result.
A sad fact with construction zone accidents, or any vehicle accident, is that it only takes one distracted or negligent driver to cause a major pile up. And, there only need to be one or two missing safety features to increase the chances of accidents in these high risk areas. As always, defensive driving is a big plus in helping to avoid accidents and injuries in these areas.
According to the Federal Highway Administration:
Rear-end crashes are the most common.
The majority of construction zone accidents occur in the summer and fall when most road construction and maintenance occurs.
Most fatal crashes occur on roads with speed limits of fifty miles per hour or greater.
Slippery road conditions greatly increase the risk of construction zone rear-end collisions.
The Highway Administration folks provide this information about stopping distance required when traveling at 50 miles per hour.
Dry roadway, 300 feet
Wet road, 400 feet
Icy roadway, 1,250 feet or more
And, you need to add 50% more for a tractor-trailer weighing 80,000 with its load
The old adage that "speed kills" is true in that a car traveling at 45 miles an hour has twenty-five second more time than one traveling at 65 miles an hour to react to construction zone signs a mile before the zone.
Who Is At Fault in Construction Zone Accidents
Road construction companies and workers, as well as governmental agencies, have the obligation to post appropriate signage and to set up a construction zone in such a way as to minimize the risk of accidents. Drivers have the obligation to drive safely. The party that breaches the duty of care (legal and moral obligation to ensure the well-being and safety of others) is at fault and typically liable for damages.
What Sorts of Damages Apply to Construction Zone Injuries?
Although 85 percent of injuries and deaths in construction zone vehicle crashes are passengers and drivers of vehicles, 15 percent are construction zone workers. The biggest expenses are medical costs, income loss, damage to property, loss of support and companionship in the event of a fatal crash. Pain and suffering may come into the picture as well.
Workers may choose to deal with injuries and loss of income through worker's compensation insurance. However, they will also have the right to sue a third party who is determined to be at fault.
How Is Liability Determined?
There are both Federal and State work zone safety standards and specific laws which construction site operators must follow or risk being considered negligent in the event of a motor vehicle accent at a construction site. The liability of contractors may be due to negligence by workers or subcontractors and sometimes liability may be shared with governmental agencies that failed in their duties as well. A hazardous detour route that forces motorists to make dangerous or sudden maneuvers is usually considered negligent as are inadequate, inaccurate, or poorly placed warning signs.
Protecting Your Rights After a Construction Zone Crash
If you or a loved one have been injured in a construction zone crash, no one is going to come to you and honestly explain your rights and options. Your best recourse is to retain accident attorneys Zervos & Calta, PLLC, who are experienced in dealing with such injuries. And, by all means, if you are approached by an insurance company or someone representing another driver or the construction company, do not sign anything until you speak with on of our Tarpon Springs personal injury lawyers!